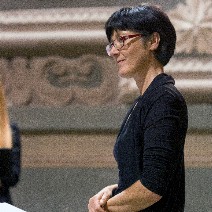 Elena Camoletto is a pianist, choir conductor and composer. Her compositions have been performed in Europe, USA, Singapore and Japan. She has won several national and international competitions. In 2011 she represented Italy at the SONGBRIDGE International Forum. In 2013 she completed the choral parts of B. Vinaccesi's Mass for 8 voices and instruments, performed at the Innsbruck Festival of Ancient Music. She teaches Choral Conduction and Composition at the Conservatory of Cuneo.
Composer at the following workshop in EUROPA CANTAT Pécs:
Soma SZABÓ (HU)
Svetlana Krstić (SI)
Choral music inspired by folklore – ancient melodies of folksongs in traditional and contemporary arrangement, but also pieces that have been inspired by folklore without containing any existing folk-tunes. Rooted in your heart, bearing fruit in your mind.
See more >
Status: You can still apply
Length: 7 days
Age: open
Category: mixed