Night of Choirs @ EUROPA CANTAT XIX Pécs 2015
Sunday, July 26, 2015
Have you ever imagined a world where everybody sings? At the Night of Choirs you have a good chance to find music coming out of house gates, from the garage, windows or a hidden little garden! Come and enjoy your dream becoming a reality at the Europa Cantat at 7.30PM July 26th!
To download the full programme click here and you can also have a look at the Night of Choirs map!
To turn streets, squares, courtyards and historical ruins into concert halls for a night through the power of human voices: this is what The Night of Choirs will be about on the Sunday of July 26, 2015 at the EUROPA CANTAT festival in Pécs. Join in as a singer or with your choir!
Through the setting of The Night of Choirs a series of short concerts will take place simultaneously in multiple locations in the old centre of Pécs, complemented by flashmobs and other short performances. As an overture, human voice will embrace the medieval dome of Pécs and in the "Singing Streets" houses, windows, arcades and lamp posts will pass the tune along to each other, guiding the audience to the various concert locations. The Night of Choirs presents a cappella concerts at unexpected locations and spaces, not always accessible for the public in everyday life. The highlight of the evening will be a joint singing session by performers and audience, filling the main square in Pécs with voice.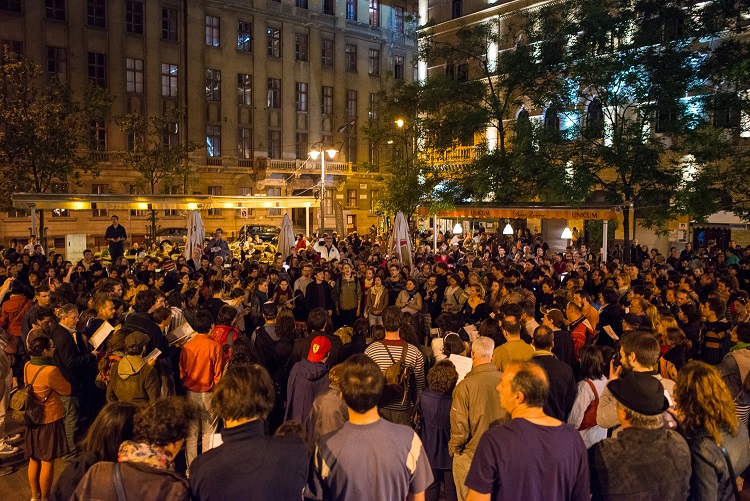 The aim of the series of concerts during the Night of Choirs is to illuminate the diversity of vocal music, and the tremendous power of singing together. Choirs and performers from a wide range of musical genres – classical, folk, jazz, world music and choir improvisation – are invited to participate. Spectators can also experience the fusion of traditional and contemporary choir music in the 21st century.
The Night of Choirs is originally a civil community arts project of the Halastó Public Benefit Association, organized in Budapest every year since 2013. It aims to demonstrate how exciting, trendy and inspiring choral music can be when sung in unexpected locations of a city.
See you at The Night of Choirs!